Golden Horn Bike Tour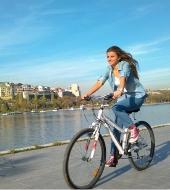 The Golden Horn bike tour lets you explore the more European side of Istanbul taking you along banks of the Golden Horn Estuary so you can discover the oldest neighbourhoods this cultural capital has to offer. See more in less time and take a truly awe-inspiring trip throughout the numerous mosques, churches and synagogues that Muslims, Christians and Jews have occupied together for centuries
Expert Local Bike Tour Guides
Accompanied by one our friendly and enthusiastic tour guides , afterward you'll cycle on through Istanbul along the scenic estuary bank. The newly landscaped parks and bike paths of Golden Horn have been designed specifically for bike tours and are a perfect way for visitors to learn more about the area that for centuries formed a crucial port of the Ottoman Empire.
Cycling in Istanbul - get off the beaten track
As you cycle around the Golden Horn, you´ll quickly become aware of wonderful dynamics Istanbul Offers, from the imposing red Greek, the outstanding Bulgarian iron church with its spectacular Byzantine walls to the Feshane with its well established and fascinating history.
Take a moment to absorb the scenery!
In the pilgrim location Eyüp we enjoy a delicious ice cream or salep drink together with devoted Muslims while we are sitting between green areas and monuments. We also explore the colourful ancient Jewish and Greek Neighbourhoods Balat and Fener.
What can you expect?
Discover the Golden Horn
Off the beaten track
Authentic Istanbul
With guide
Unique bike tour
HIghlights of the tour
Orient Express Railway Station
Spice Bazaar
Galata Bridge
Golden Horn
Bulgarian iron church
Eyüp district
Mosque
City Walls of Constantinople
Greek red school
Abandoned Greek and Jewish quarters
The Greek Ortodoxe Patriarchate
Churches, synagogues
Feshane
Departure time: Daily at 10:00 and 14:00 (except Monday)
Departure point: Üretmen Han, Alemdar Mh. 34110 Istanbul
Duration: 3 hours
Further information:
Bike tours available from 14 years
We use city-bikes and mountain-bikes
We recommend to leave your luggage / bags in your hotel

Tickets will be sent via e-mail!